ANGELICUM CONGRESS CENTRE
The splendid Angelicum complex hosts the Pontifical University of St. Thomas where the leading figures of the Catholic intellectual world study and teach, as well as the annexed Convent of Sts. Dominic and Sixctus and the Baroque Church of the same name.
It dates to 1569 and is situated in the exact geographical and historical centre of the Eternal City.
The entrance faces via Nazionale, a few metres from Piazza Venezia and Trajan's column, beneath the shadows of the medieval Torre delle Milizie.
From its windows and from the inferior gardens you have an enchanting view of the Imperial Fora, the Coliseum, Villa Aldobrandini, the Quirinal Palace and the Victor Emmanuel Monument.
Some of the greatest masters of the 17th century have left their imprint on the architecture and decor of the building, infusing it with their unmistakable elegance. Among them: Gian Lorenzo Bernini (1649), giacomo della Porta (1587) and Vincenzo della Greca (1654).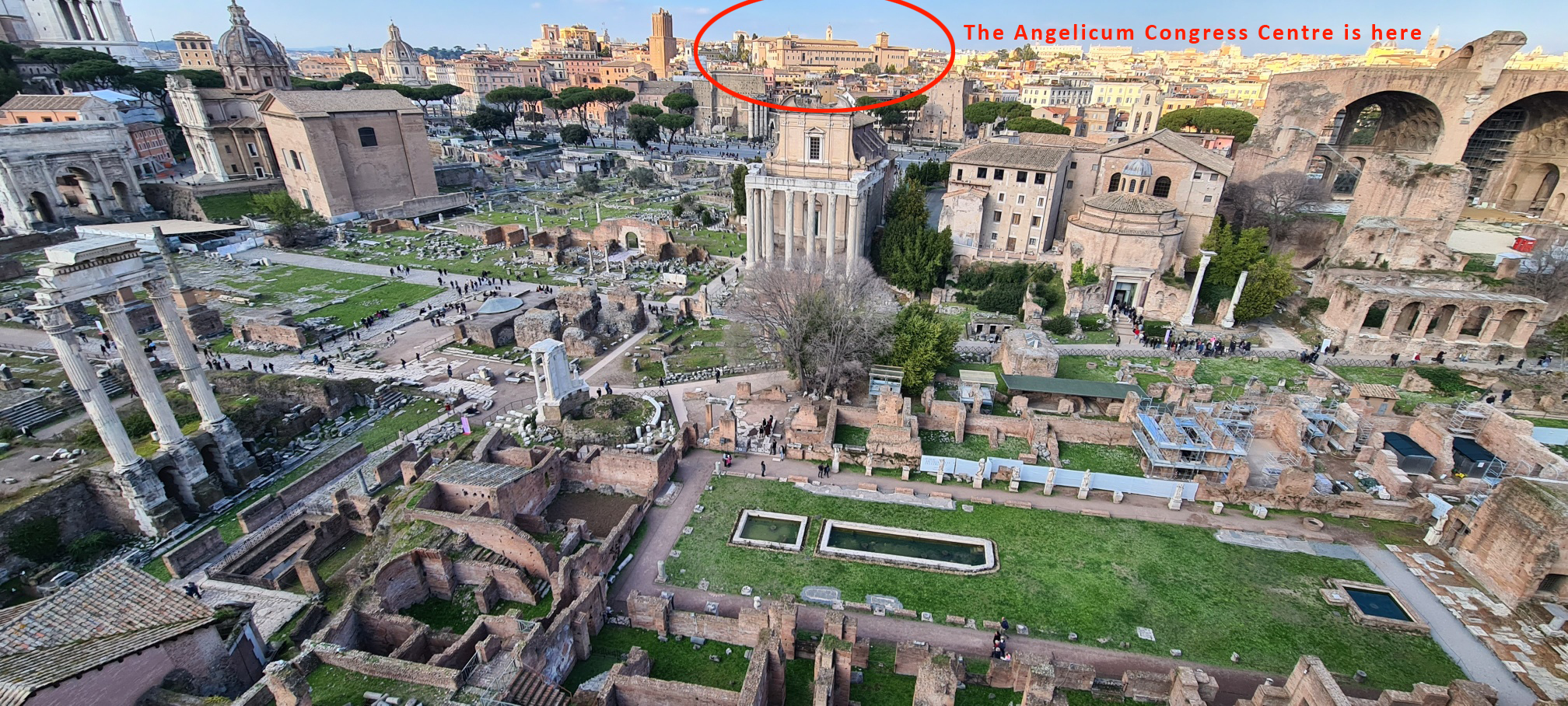 HOW TO REACH THE VENUE
Full address: Largo Angelicum, 1, 00184 Roma RM, Italy
BY AIR
From Leonardo da Vinci-Fiumicino Airport:
Leonardo Express, a non-stop service exclusively for airport passengers to/from Rome Termini railway station leaving every 15 minutes, with a journey time of 32 minutes (departures every 30' from Fiumicino Airport before 07.08 and after 21.08 and between 10.08/10.38 and 14.08/14.38 – departures every 30' from Rome Termini before 06.20 and after 20.20 and between 09.50/10.20 and 13.50/14.20);
Regional FL1 trains to/from other stations in Rome, including Rome Tiburtina, with departures every 15 minutes on weekdays and every 30 minutes on weekends and holidays.
The scheduled bus stops are opposite Terminal 2, Arrivals. To reach them, please follow the "Regional Bus Station" signs.
Click here for all information
From Ciampino Airport:
The nearest train station to the Giovan Battista Pastine Airport is in the town of Ciampino, connected to the airport by COTRAL/SCHIAFFINI buses every 30 minutes. A light rail service connects the Ciampino railway station to the Termini railway station in an average time of 15 minutes.
A daily connection between the airport and Rome Termini railway station is provided by three different companies: Terravision, SIT and Schiaffini
BY TRAIN
The Angelicum Congress Centre is easily reachable from Termini railway station by foot (about 20 min), by bus (about 5 min) or by subway.
Connections with Termini and Tiburtina railway stations: